M.A. in Counseling
Home

›

M.A. in Counseling
We welcome your interest in the Counseling program. Southwestern College has a unique, integrative approach within an experiential and transformational learning environment. Students are prepared to practice as mental health professionals while also cultivating personal development.
Your Experience and Success in the Program
The Counseling program is dedicated to helping you determine what it means to live your soul's journey, personally and professionally. You will learn a wide variety of counseling approaches, including cognitive-behavioral, psycho-spiritual, somatically-based, , eco-psychological, and psychodynamic, as well as other depth traditions. Most importantly, you will be encouraged to become a compassionate and powerful agent and guide of change, whether in individual, community, or global contexts. Our faculty is dedicated to assisting you in making the vital paradigm shift from isolated separation to authentic sharing and "giving back". Our graduates are consistently described by employers as "true therapists"—well trained in professional counseling practices and centered in authenticity.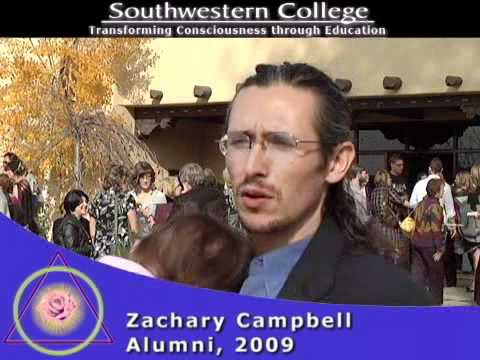 Program Description
Curriculum and Degree prepare graduates for licensure
91 quarter units (equivalent to approx. 60 semester units)
Both practicum and internship experience
Full-time two year program; part-time options are also available
Strong sense of community within our college setting
Experiential learning, including self-reflection and application of theory to self and other
Diverse faculty within  small classroom settings, resulting in personal attention and great mentorship opportunities
In our unique program, there is an emphasis on your personal psychological transformation through self-reflection and experiential learning. You will come to a new understanding of the nature of change and its application in the helping professions, using yourself as your own first client. This is truly a different way of learning at a deep and experiential level, and results in more mature, reflective and advanced professional development. Our graduates often find themselves in leadership roles as a result.
Students develop their own professional counselor identities during the coursework, and through a year-long practicum and internship experience. Practicum occurs at the Southwestern Counseling Center, and internships can be accomplished in or out of state in the last two quarters of the program.
Our Master's degree program in Counseling prepares students for a wide range of meaningful careers in the helping and healing professions. It provides students with a broad perspective on the field of counseling in the context of a truly holistic and transformational approach. Graduates are eligible for licensure in New Mexico and other states.
The Counseling program is two years in length if attending full time; however, many students find that going part time enables them to  engage the experience fully and at the deepest levels.
In addition to the successful completion of coursework, practicum hours and internship, students are required to demonstrate their knowledge and abilities at the end of both the first year of classes and at the end of the program through examinations.
All Masters degree students are required to fulfill a personal therapy requirement of 40 face-to-face hours with a mental health professional licensed in New Mexico. The personal therapy requirement provides both academic and personal benefits. The experience of being a client teaches Counseling students about the nature of the therapeutic relationship, including an appreciation of the emotional life of the client. The experience also provides an opportunity for personal growth that strengthens emotional balance and therapeutic skills.
If you are interested in a degree program, please feel free to contact us by phone or email. Review the Degree Admissions Requirements, and download and complete the Degree Application Packet.
Counseling Program Chair
Fall  2014 New Earth Institute (Certificate and CEC) Class Schedule
Masters Degree Application Packet