A Celtic Christmas at the Scottish Rite Temple, Sat. Dec. 20, 3pm.

Santa Fe Alternative Gift Market at DeVargas Mall, Friday - Sunday, Dec. 19-21. See events calendar

Clan Tynker: The Dream Train at the Armory for the Arts, 1050 Old Pecos Trail. Sun. Dec. 21 & 28, Wed. Dec. 24.
Santa Fe Culture
Share this: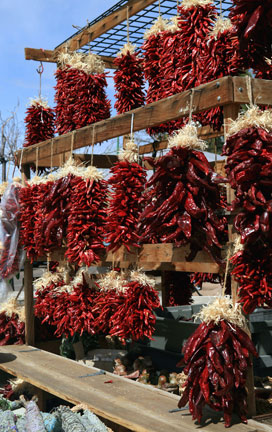 There is not a better place on earth for students of Art Therapy, Counseling Psychology, Transpersonal Psychology, or alternative healing arts to combine academic study, unparalleled natural beauty and colorful cultural vibrancy. Founded in 1610, Santa Fe is the oldest and highest (7000 feet) capital in the United States. Demographically, it is a blend of European (especially Spanish), Mexican, Pueblo and Navajo Indian. All of which add to the art and architecture found here.
Wikipedia offers this on the Santa Fe art scene: "Santa Fe's art market is generally considered to be one of the three largest in the United States. The Canyon Road galleries showcase a wide array of contemporary, Southwestern, indigenous American, and experimental art, in addition to Russian, Taos Masters and Native American pieces."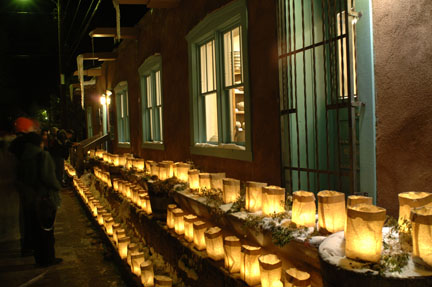 A visit to Santa Fe is not complete without a hike up Canyon Road, even for the most casual art appreciator. For Artists and Art Therapist, it is absolutely essential. You will also see the most incredible details on private homes, in Plaza hotels, and just about everywhere you turn in Santa Fe.
At 7,000 feet, the skies here are often shockingly dramatic and ever-changing, and the sun shines over 300 days a year. In one hour or less you can travel from the Downtown Plaza to El Santuario de Chimayo Shrine (the Lourdes of America), have lunch on the banks of the Rio Grande in Embudo Station, visit the ancient pueblos of Cochiti, Taos or Okeh Owinge, luxuriate in natural hot springs at Ojo Caliente or head to 10,000 feet to Ski Santa Fe (stopping at Ten Thousand Waves, a Japanese style spa, on the way up.)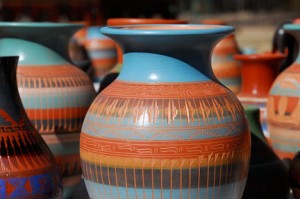 In the summer months, the Plaza explodes with art, color and music as the Fiesta, Spanish Market and Indian Market electrify the art community and the Plaza stage offers live music most nights. The festival of Zozobra is our local "burning man" celebration, and 45 minutes south is the acclaimed Albuquerque International Balloon Fiesta in October. Visually and musically stunning Deer, Corn and other Dances are held at various times of the year at the nineteen northern New Mexico pueblos, and are an experience of a lifetime.
http://www.santaana.org/calendar.htm
The spiritual/psychological/healing climate is diverse, open-minded and all-embracing. Many say that Santa Fe is a "spiritual vortex" which attracts energy healers and shamanic practitioners, supports a Jungian Society and is home to the kinds of people that present at our own annual Transformation and Healing Conference.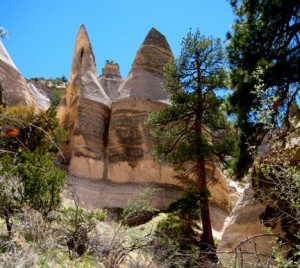 Additionally, you will have ample opportunities to visit ashrams, Friends Meeting Houses, a Catholic Basilica, Tibetan Stupas, New Thought Centers, Synagogues, the Hanuman Temple in Taos or go on a vision quest with our own Carol Parker.
Communing with nature is one of the biggest cultural pastimes here. Hiking enjoys a huge popularity, as do biking, rafting and a New Mexico specialty, sky-watching. The hoodoos at Tent Rock, the cave dwellings at Bandelier National Park and Aspen Ridge at peak color are only a few of many amazing experiences to be had in or near Santa Fe.
Colorful, wonderful, exciting, artistic, stunning. That is Santa Fe, New Mexico. It is an experience of a lifetime to attend graduate school here…