Webb Garrison, Ph.D.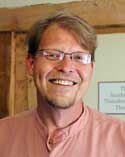 B.A., Religious Studies, Davidson College, Davidson, NC, 1993; Ph.D. Clinical Psychology, The Derner Institute of Advanced Psychological Studies, Adelphi University, Garden City, NY, 2000.
Dr. Garrison is the Academic Dean of Southwestern College. His passion for spirituality and psychology are longstanding.  During college, Dr. Garrison explored various Eastern and Western mystical traditions, as well as a range of philosophical traditions.  He entered the field of psychology, believing that this field can be a medium for the integration of spiritual, philosophical, and psychological principles and practice.
Dr. Garrison has worked in academic, research, and clinical settings, including community mental health, adolescent group homes, nursing/rehabilitation facilities, and private practice.  Throughout his career, he has sought to integrate spiritual, psychological, and educational principles in concrete ways that positively impact local communities. 
Dr. Garrison is deeply committed to the mission of Southwestern College, and to finding new ways of exploring, facilitating, and evaluating the transformative effect of education on consciousness. He is a powerfully student-centered, accessible and collaborative instructor. He believes that Southwestern is on the cutting edge of the integration of spirituality, education, and the therapeutic arts.