The New Earth Institute
Home

›

The New Earth Institute
The New Earth Institute of Southwestern College offers cutting edge experiential and transformational programs on innovative and clinically relevant topics. Each program offers distinctive training that can enhance not only the participant's experience and skill base, but their career opportunities. Classes can be taken for Board approved CECs by counselors, social workers and art therapists, as well as for personal enrichment by the general public. You may want to complete a certificate in a specialty area or you may choose to take whichever class is of interest to you.
2013 Fall Continuing Education and Certificate Classes
The directors of the certificate programs are passionate educators and practitioners, and each selects master teachers to bring forth cutting-edge teachings in their area of expertise. Recognized professionals in the Counseling and Art Therapy fields, as well as alternative health practitioners and medical professionals, present their work through conferences, certificate programs, classes and lectures in a transformational learning format.
---
For over 30 years, Katherine Ninos has been the director of what has been called SWC's "Community Education Programs" (or CEP). The CEP programs have included professional training certificates, the Transformation and Healing conference, lectures, and other programs and trainings. Why the new name? My view on this is that the energy generated by these initiatives and the scope and diversity of the offerings has outgrown the name "Community Education Programs." A larger energetic container was needed to hold what these programs have become. When President Jim Nolan asked if I had an idea for a new name, "The New Earth Institute" came to me immediately. I just knew that was the name. It is, of course, a biblical allusion, and shows up most prominently in the Book of Revelation (the Apocalypse). In that book, "a new heaven and a new earth" become the metaphorical vision of a transformed and higher consciousness, available to us when we move beyond the limited world of form, ego, personality and fear. Eckhart Tolle also borrowed the biblical phrase, explaining that, for him, the "new heaven" would be an inner experience, and a "new earth" would be the out-picturing in form of that higher consciousness. Out of this comes the tagline, "Transdimensional Teachings for the World Community."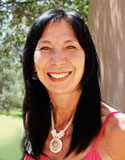 Katherine Ninos, Director of The New Earth Institute
Read Full Bio