Quimby Memorial Library
Home

›

Quimby Memorial Library
Share this:
Library Hours for the 2014 Summer Quarter (June 23rd – September 8th, 2014):
Monday – Thursday ~ 8:45 a.m. to 5:00 p.m.
Friday ~ 8:45 a.m. to 4:00 p.m.
Saturday ~ 10:00 a.m. to 2:00 p.m.
Sunday ~ closed
Direct Phone: (505) 467-6825
Toll free: (877) 471-5756 ext. 6825
---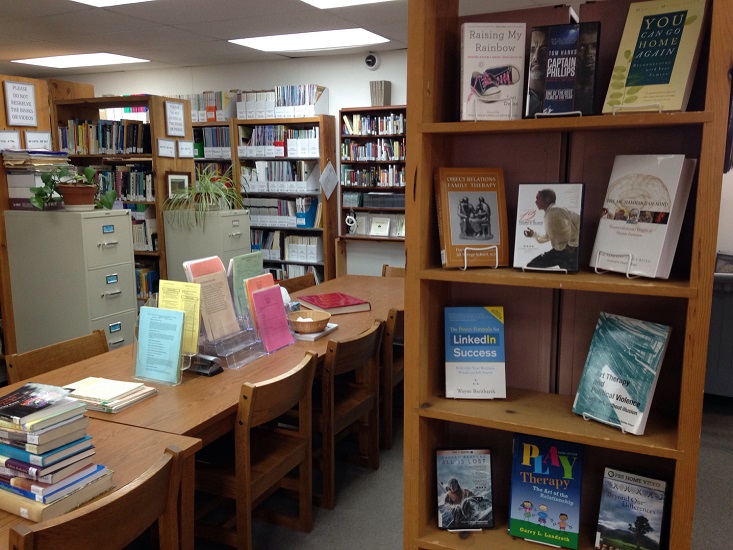 About the Library:
The Quimby Memorial Library supports the curriculum of Southwestern college and the research needs of its students, faculty, administration, staff, alumni and college community." 

~Leslie Monsalve-Jones, Library Director
With approximately 18,500 books, journals and audiovisual items, the Quimby Memorial Library directly supports teaching and research in art therapy, counseling, grief and loss, transformational Eco-psychology, applied psychology and experiential education. Patrons enjoy access to in-house databases as well as to inter-library loans and may request books, journal articles, and publications from libraries throughout the United States.
Through Internet services, access is provided to on-line catalogs in several New Mexico college libraries for course work and research. Also available are several powerful national databases – EBSCO, Gale, First Search and World Cat. These indexes provide abstracts and full-text articles from several well known scholarly journals.
Our campus library includes the Phineas Quimby Collection of rare books, which focuses on comparative religion and metaphysics. It is one of the more significant collections of metaphysical materials in the country. Learn more about Phineas Parkhurst Quimby, father of 'new thought,' scholar, clockmaker, inventor and healer.
New to Quimby, June 24th, 2014 :
BOOKS:
Arousal: The Secret Logic of Sexual Fantasies

[Paperback]
HQ 31 .B185 2002
In this fascinating and provocative book, Dr. Michael Bader offers a groundbreaking new theory of sexual desire. Drawing on his twenty-five years as a psychotherapist and psychoanalyst, Dr. Bader demonstrates that rather than being programmed by biology or society, sexual fantasies and preferences are really psychological antidotes to unconscious dangers. Armed with this novel theory, man and women will no longer need to feel ashamed about what arouses them or confused about what arouses others.
The Complete Adult Psychotherapy Treatment Planner, 5th Edition

[Paperback]
by Arthur E. Jongsma Jr. (Author), L. Mark Peterson (Author), and Timothy J. Bruce.

RC 480.5 .J664 2014 5th ed.
The Complete Adult Psychotherapy Treatment Planner, Fifth Edition provides all the elements necessary to quickly and easily develop formal treatment plans that satisfy the demands of HMOs, managed care companies, third-party payors, and state and federal agencies.
New edition features empirically supported, evidence-based treatment interventions including anger control problems, low self-esteem, phobias, and social anxiety
Organized around 43 behaviorally based presenting problems, including depression, intimate relationship conflicts, chronic pain, anxiety, substance use, borderline personality, and more
Over 1,000 prewritten treatment goals, objectives, and interventions—plus space to record your own treatment plan options
Easy-to-use reference format helps locate treatment plan components by behavioral problem or DSM-5 diagnosis
Includes a sample treatment plan that conforms to the requirements of most third-party payors and accrediting agencies including CARF, The Joint Commission (TJC), COA, and the NCQA
Jung and Moreno: Essays on the Theater of Human Nature
Edited by Craig E. Stephenson
RC 480 .J86 2013
To many, Jung and Moreno seem to be on opposite sides in their theories and their practices of psychotherapy. Jung defines self as emerging inwardly in an intrapsychic process of individuation; Moreno defines self as enacted outwardly in psychosocial networks of relationships. Jung and Moreno: Essays on the theatre of human nature shows how Jung and Moreno can be creatively combined to understand better and facilitate therapeutic work.
Craig E. Stephenson and contributors write about how and why they put together Jung and Moreno. They describe and discuss psychodrama sessions grounded in the fundamentals of Jung's analytical psychology, as well as dream and fairy tale enactments and individual psychoanalytical sessions in which they employ psychodramatic techniques. The essays retheorize Jungian concepts of transference and complexes in the light of Moreno's insights. They reframe and deepen traditional psychodramatic techniques by securing them within Jung's archetypal context.
Jung and Moreno challenges our understanding of healing practices and the integration of spontaneous unconscious processes, bringing these two ground breaking practitioners to meet collaboratively in the theatre of human nature. The contributions are original and insightful arguments by nine important thinkers. This book will be of interest to psychotherapists, analytical psychologists, psychoanalysts, psychodrama practitioners, drama therapists and students.
Sex at Dawn:  How We Mate, Why We Stray, and What it Means for Modern Relationships
by Christopher Ryan and Cacilda Jetha
HQ 12 .R93 2010
"Sex at Dawn challenges conventional wisdom about sex in a big way. By examining the prehistoric origins of human sexual behavior the authors are able to expose the fallacies and weaknesses of standard theories proposed by most experts. This is a provocative, entertaining, and pioneering book. I learned a lot from it and recommend it highly." — Andrew Weil, M.D.
"Sex at Dawn irrefutably shows that what is obvious—that human beings, both male and female, are lustful—is true, and has always been so…. The more dubious its evidentiary basis and lack of connection with current reality, the more ardently the scientific inevitability of monogamy is maintained—even as it falls away around us." — Stanton Peele, Ph.D.
A controversial, idea-driven book that challenges everything you (think you) know about sex, monogamy, marriage, and family. In the words of Steve Taylor (The Fall, Waking From Sleep), Sex at Dawn is "a wonderfully provocative and well-written book which completely re-evaluates human sexual behavior and gets to the root of many of our social and psychological ills."
Uncoupling Convention: Psychoanalytic Approaches to Same-Sex Couples and Families
Edited by Ann D'Ercole and Jack Drescher
RC 451.4 .G39 U536 2003
What does it mean to be member of a gay/lesbian couple or family? The contributors to Uncoupling Convention: Psychoanalytic Approaches to Same-Sex Couples and Families address this question by drawing on two cultural movements of the twentieth century: psychoanalysis and the gay/lesbian civil rights movement. Taken together, these traditions provide a framework for understanding, and providing psychotherapeutic assistance to, gay and lesbian patients who present with troubled relationships.
The contributors to this volume espouse a clinical focus that supplants the heterosexual perspectives of traditional psychoanalysis with new narratives about family life. Drawing on cultural, feminist, gay/lesbian, and queer studies, they illustrate how concepts of gender and sexuality are routinely informed by unproven heterosexist assumptions – both conscious and unconscious.
By examining the changing developmental needs and family dynamics of gay and lesbian families, the contributors broaden our very understanding of what a family is. They illustrate how contrasting cultural constructions of homosexuality and family life play out in same-sex couples. They delineate the multiple realities of gender subjectivity, both in children and in their gay parents. They ponder how technology is shaping reproductive experiences, as lesbians become part of the biomedical system. And they explore recurrent themes of feeling different and ashamed, including the shameful secrecy surrounding same-sex couples' financial matters. In uncoupling conventions, the contributors are effectively coupling post-Freudian psychoanalysis with the insights of queer theory and the critical edge of contemporary cultural studies. The result is a framework for addressing the relational and family-related challenges of gay and lesbian patients that ranges far beyond traditional approaches and will benefit analytic, couples, and family therapists alike.