Quimby Memorial Library
Home

›

Quimby Memorial Library
Share this:
Library Hours for 2014 Spring Quarter:
Monday – Thursday ~ 8:45 a.m. to 6 p.m.
Friday ~ 8:45 a.m. to 4 p.m.
Saturday ~ 10 a.m. to 5 p.m.
Sunday Closed
Direct Phone: (505) 467-6825
Toll free: (877) 471-5756 ext. 6825
---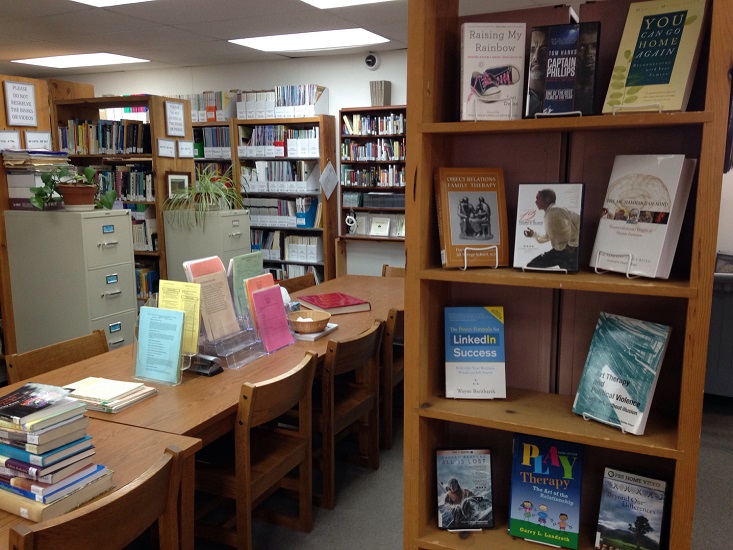 About the Library:
The Quimby Memorial Library supports the curriculum of Southwestern college and the research needs of its students, faculty, administration, staff, alumni and college community." 

~Leslie Monsalve-Jones, Library Director
With approximately 18,500 books, journals and audiovisual items, the Quimby Memorial Library directly supports teaching and research in art therapy, counseling, grief and loss, transformational Eco-psychology, applied psychology and experiential education. Patrons enjoy access to in-house databases as well as to inter-library loans and may request books, journal articles, and publications from libraries throughout the United States.
Through Internet services, access is provided to on-line catalogs in several New Mexico college libraries for course work and research. Also available are several powerful national databases – EBSCO, Gale, First Search and World Cat. These indexes provide abstracts and full-text articles from several well known scholarly journals.
Our campus library includes the Phineas Quimby Collection of rare books, which focuses on comparative religion and metaphysics. It is one of the more significant collections of metaphysical materials in the country. Learn more about Phineas Parkhurst Quimby, father of 'new thought,' scholar, clockmaker, inventor and healer.
New to Quimby, April 2014:
BOOKS:
Addiction as an Attachment Disorder
[Paperback]
From the Foreword:
"Addiction is a disorder in self-regulation. Individuals who become dependent on addictive substances cannot regulate their emotions, self-care, self-esteem, and relationships. In this monumental and illuminating text Philip Flores covers all the reasons why this is so. But it is the domain of interpersonal relations that he makes clear why individuals susceptible to substance use disorders (SUDs) are especially vulnerable. His emphasis on addiction as an attachment disorder is principally important because he provides extensive scholarly and clinical insights as to why certain vulnerable individuals so desperately need to substitute chemical solutions and connections for human ones.
_______________
The Art of Art Therapy: What Every Art Therapist Needs to Know
[Hardcover]
The Art of Art Therapy is written primarily to help art therapists define and then refine a way of thinking about their work. This new edition invites the reader to first consider closely the main elements of the discipline embodied in its name: The Art Part and The Therapy Part. The interface helps readers put the two together in an integrated, artistic way, followed by chapters on Applicationsand Related Service. Included with this edition is a DVD containing two hours of chapter-related video content.
_______________
Astrology for Yourself: How to Understand And Interpret Your Own Birth Chart /
[Paperback]
by Demetra George(Author), Douglas Bloch(Author)
BF1728.A2G357 2006/1987
Astrology for Yourself is designed to introduce you to the language, art, and science of astrology through a series of self-directed, program-learning exercises that will literally enable you to write your own chart interpretation. Aside from providing you a wealth of knowledge about your birth chart, Astrology for Yourself promises to promote personal growth and change your life.
_______________
Butterfly Warrior
[Paperback]
by Juan Blea(Author)
PS 3602.L43 B88 2006
Four friends who grew up together in Los Arbolitos Barrio of Santa Fe, New Mexico are bonded by a belief in the Aztec legend of the Butterfly Warrior. This Aztec god grants the dead the privilege of returning to Earth to collect the eternal reward of sucking on sacred nectar. In adulthood, one of the four, Manny, commits suicide. Now, the remaining three must resolve their differences in order to discover the strange truth surrounding Manny's demise. Cuate is the loosetongued joker. Anna, Cuate's twin sister, is a voice of reason; Whitey is the outsider craving acceptance, and Manny was the Prometheus whose fire was music. Though the conflict between language and customs is at the heart of all Latino fiction, Butterfly Warrior adds to the mix new technology and the power of music to heal.
_______________
Cultures Of Healing: Correcting The Image Of American Mental Health Care
[Paperback]
This work contends that while mental health care is legitimate, many of its claims to scientific truth and authority are not. Written by a practising psychotherapist, it argues that rather than operating as an objective science, the mental health profession is composed of competing "cultures" built around false ideology and subjective belief.
This book provides an analysis of how America came to see various forms of suffering as "mental illness," arguing that social and historical dynamics, not scientific discovery, provided this notion. It critiques four cultures of therapy: psychoanalysis, behaviourism, cognitive therapy and biological therapy–discussing the historical significance, general principles and methods of treatment, world view values and scientific status of each. It concludes with the author's assessment of how best to view mental health care and use it wisely and effectively. An appendix offers an insight into choosing a therapist.
_______________
The Energy Healing Experiments: Science Reveals Our Natural Power to Heal /
[Paperback]
A healer removes the pain of a broken wrist in fifteen minutes. Another removes an ovarian tumor in a couple of weeks. Still another, from thousands of miles away, regenerates the nerves of an injured spine for a patient on whom the doctors had given up. These sound like tabloid stories but could they be true? They are just three out of millions of instances in which healers have claimed to manipulate energy fields to cure the body.
Books on vibrational medicine, prayer, and spiritual healing present readers with an array of historical and current discoveries and techniques. But so far nobody has addressed the reality of healing through comprehensive scientific research. The Energy Healing Experiments fills that void. Harvard- educated Dr. Gary E. Schwartz provides scientific experiments and evidence to reveal the truth about the existence of energy fields and unlocks their potential for enhancing your health.
_______________
Getting Through the Day: Strategies for Adults Hurt as Children
[Paperback]
by Nancy J. Napier  (Author)
RC 569.5.C55 N38 1993
Early abuse can have a profound effect on adult life, especially when survivors struggle with dissociative responses, which range from "trancing out" under stress to the switching of personalities seen in multiples.
This book enables adults who were traumatized as children to learn new strategies to meet the demands of daily living. While focusing on the effects of dissociation and including specific advice for multiples, Nancy Napier presents dozens of exercises helpful to anyone who finds that unresolved childhood feelings are blocking life's path.
_______________
The Inner Sky: How to Make Wiser Choices for a More Fulfilling Life
[Paperback]
by Steven Forrest(Author)
SWC 133.5 2012/1984
This bestselling astrology classic was the WINNER OF THE 1985 PAI AWARD (Professional Astrologers Incorporated) "for outstanding activities in furthering the goals of Astrology." Published to almost immediate critical acclaim, The Inner Sky is beloved by both beginning and seasoned astrologers. The book introduces all the astrological basics–signs, planets, houses, aspects–and pulls them together in a step-by-step strategy for synthesis that anyone can learn. One of the most popular texts for beginning the study of astrology, the book has received praise by professional astrology teachers as well as celebrities such as Sting and Robert Downey Jr. Readers will learn an approach to astrology that is positive and affirming, and which celebrates human diversity, in the style of Evolutionary Astrology that Steven Forrest has become renown for the world over. The writing is both accessible and poetic, reaching the reader through clear imagery and storyline that is easily memorable and retainable. Differing from astrology texts that are simply descriptive, The Inner Sky takes the reader on a journey into the astrology of freedom and choice, where we discover the interplay of celestial influence and free will, and the magic that we all can find there.
______________
The Mandala of Being: Discovering the Power of Awareness
[Paperback]
by Richard Moss(Author)
BF 637.S4 M66 2007
Many people obstruct their innate potential through repeated patterns of emotional struggle and suffering. This practical, hands-on guide explains why and how people habitually fall into this trap and provides a program, easily incorporated into everyday life, that frees them from this destructive behavior. Using a simple mandala, the book illustrates the four places humans go when they feel threatened, uncomfortable, or aren't fully centered or grounded in the present moment. Like a trail of pebbles left behind on a hike, it helps trace the path back to the authentic self. Drawing on his three decades of teaching consciousness, Richard Moss plays the role of wise shepherd, accompanying and encouraging the reader on a journey toward the genius within and away from fear and other limitations. Most importantly, he offers an always-available compass that directs readers back to the true self, and into the magic of the present moment.
_______________
Play Therapy with Adults
[Hardcover]
Learn how to incorporate adult play therapy into your practice with this easy-to-use guide
In the Western world there has been a widening belief that play is not a trivial or childish pursuit but rather a prime pillar of mental health, along with love and work. Play Therapy with Adults presents original chapters written by a collection of international experts who examine the diverse approaches and clinical strategies available for successfully incorporating play therapy into adult-client sessions.
This timely guide covers healing through the use of a variety of play therapy techniques and methods. Various client groups and treatment settings are given special attention, including working with adolescents, the elderly, couples, individuals with dementia, and clients in group therapy.
Material is organized into four sections for easy reference:
* Dramatic role play
* Therapeutic humor
* Sand play and doll play
* Play groups, hypnoplay, and client-centered play
Play Therapy with Adults is a valuable book for psychologists, therapists, social workers, and counselors interested in helping clients explore themselves through playful activities.
_______________
DVD's:
Antonia's Line (1995)
Winner of the 1995 Academy Award for Best Foreign Language Film and many of the most prestigious international film honors, Antonia's Line is an inspiring and uplifting masterpiece, as big hearted and full of life as the unforgettable character at its heart. At the end of the Second World War, a spirited, independent woman returns to the place of her birth, a small village in the verdant Dutch countryside, to start a new life with her young daughter. Thus begins a remarkable portrait of a family and a community of mothers and daughters, and of one indomitable woman. Earthy, sexy, romantic, filled with laughter and warmth, it is a joyous celebration of simple pleasures and enduring passions. Lived by Antonia and learned by all in her lineage, it's a legacy of life and love that spans five generations.
______________
Just Like Heaven (2013)
DVD PN1995.9.C55 J878 2006
Reese Witherspoon. A young doctor gets into a car accident rendering her a spirit stuck between heaven and earth. Not realizing she's dead, she goes to her apartment only to find that it has been sublet by a lonely architect.
_______________
Makers: Women Who Make America/
DVD HQ 1391.U5 M35 2013
MAKERS: Women Who Make America tells the remarkable story of the most sweeping social revolution in American history, as women have asserted their rights to a full and fair share of political power, economic opportunity, and personal autonomy in the last 50 years. It's a revolution that has unfolded in public and private, in courts and Congress, in the boardroom and the bedroom, changing not only what the world expects from women, but what women expect from themselves. MAKERS brings this story to life with priceless archival treasures and poignant, often funny interviews with those who led the fight, those who opposed it, and those first generations to benefit from its success. Trailblazing women like Hillary Rodham Clinton, Ellen DeGeneres, Gloria Steinem, Eleanor Holmes Norton, and Linda Alvarado share their memories, as do countless women who challenged the status quo in industries from coal-mining to medicine. MAKERS captures with music, humor, and the voices of the women who lived through these turbulent times the dizzying joy, aching frustration, and ultimate triumph of a movement that turned America upside-down.
_______________
Philomena (2013)
When she fell pregnant as a teenager in Ireland in 1952, Philomena Lee (Judi Dench) was sent to the convent to be looked after as a fallen woman. She cared for her baby for three years until the Church took him from her and sold him, like countless others, to America for adoption. Coerced into signing a document promising never to attempt to see her child again, she nonetheless spent the next fifty years secretly searching for him, unaware that he was searching for her from across the Atlantic.
_______________
Questions For Crazy Horse (2010)
There are few more significant figures for American Indians than Crazy Horse, the enigmatic Oglala Lakota Sioux warrior who defeated Custer at the Battle of the Little Bighorn. Yet despite his importance to the Lakota, and thus to an accurate understanding of Native American culture, there has been surprisingly little exploration or analysis of the impact Crazy Horse had and continues to have on his people. Oliver Tuthill s feature documentary is an imaginative, fearless attempt to help bridge the gap between myth and modern Indian life. At once a sensitive portrait, a damning indictment, an objective history lesson and a brave work of art, Questions for Crazy Horse is a worthy addition to the existing body of knowledge for all who care about the past or the future of Native Americans. Tim Rhys, Editor-In-Chief, MovieMaker Magazine –
_______________
The Seven Spiritual Laws of Success (2007)
The visual complement to his 1994 book of the same name, Deepak Chopra's The Seven Spiritual Laws of Success provides adherents with the same kind of inspiration and advice that have made the New Delhi-born doctor and writer's work so popular. Whether it will sway those who consider Chopra more charlatan than guru, however, is another matter. To be sure, there's much to be said for the virtues of cultivating one's consciousness, which Chopra describes as "a faculty more powerful and reliable than the five senses." In fact, much is said about it here, often by some familiar faces, including singer Olivia Newton-John (who also provided much of the music for the DVD), actor-director Bill Duke, musician Dave Stewart of the band Eurythmics, and professional golfer Tina Mickelson. Their testimonials, while varying in specifics, all have the same essential theme: only after they'd reached their lowest ebb (breast cancer for Newton-John, a car accident for Stewart, drug problems for Duke) were they able to "tap into the power of their inner beings" and realize their full potential. That's where the Seven Spiritual Laws come in. Some contain considerable wisdom; the fourth (called "The Law of Least Effort") recommends acceptance and responsibility as alternatives to blaming others, while the sixth ("The Law of Detachment") suggests that relinquishing one's obsession with a particular goal will make it more likely to happen. Others are frustratingly vague; learning to "efficiently, effortlessly co-create with the universe" or to be "grounded in the wisdom of uncertainty" is all well and good, but in the absence of practical steps it comes off as vapid New Age speak. Overall, the DVD is well-produced, mixing interviews with the principals (Chopra included) with some lovely cinematography and several sequences that combine live action (mostly featuring Newton-John) with imaginative, computer-generated landscapes and interiors. The package contains a 16-page "study guide" along with the DVD.
_______________
AUDIOBOOKS:
Living the Lakota Way: Learning from the Land, the Spirits, and Our Ancestors/
AudioCD – Abridged, Audiobook
by Joseph M. Marshall III(Author)
CD E99.T37 M37 2012
An Invitation to Share the Inheritance of Lakota Wisdom
We are all indigenous to the planet Earth—and that is why each of us can benefit from indigenous wisdom. Throughout their history, the Lakota people developed many enduring insights and practices for achieving harmony with all the forces in our life—including the land, the spirits, our community, and ourselves. On Living the Lakota Way, Joseph M. Marshall explores how you can apply the core principles of Lakota wisdom to your own life, no matter who you are or where you come from.
Lessons for Living with Simplicity, Courage, and Purpose
Through his gifts as a storyteller, Joseph Marshall brings Lakota history and lore to life with his words. With each piece of Lakota tradition he shares, Joseph offers a special focus on the aspects that are most valuable and relevant to us today in our own lives. How do we choose the heroes that we honor? Where do we find the strength to make it through challenging times? How do we relate to the earth, to our ancestors, and to the profound mystery of the spirit world? The Lakota tradition, as Joseph Marshall imparts it, can provide us with much-needed guidance for finding answers to the essential questions of our lives.
The Lakota people begin prayers with words that mean "All My Relatives," addressing the people, animals, elements, and spirits as being all part of a single great family. It is in this spirit of kinship that Joseph M. Marshall offers the greatest treasure of his people—the wisdom of Lakota traditions, philosophy, and stories. Living the Lakota Way is an invitation in friendship to share an inheritance that arose from one people, but was meant to enrich us all.
HIGHLIGHTS
Honoring our ancestors—how knowing the story of where we came from helps us define who we are
Ceremonies and rituals—Joseph explores the meaning of these important traditions and how they can inform our own spiritual practice
Who are your heroes? The Lakota perspective on honoring the full story of those we choose to admire
Prayer and the spirit world—how we relate to the unseen aspects of reality and the mystery of the divine
Healing—guidance from the Lakota tradition on the role of healers, belief, and community
The heartbeat of Grandmother Earth—how we can reconnect to the source of all life
_______________
Men, Women, and Worthiness: The Experience of Shame and the Power of Being Enough /
[Audio CD – Audiobook]
by Brene Brown PhD LMSW(Author
CD BF 575.S45 B76 2012
What does it mean to engage with the world from a place of worthiness? How do we make the long walk from "What will people think" to "I am enough!" Dr. Brené Brown has spent more than 10 years researching these questions, and her discoveries always lead back to one critical finding: Shame resilience. "If we want to cultivate more courage, joy, and love in our lives, we have to understand how and why shame keeps us afraid and small." On Men, Women, and Worthiness, Dr. Brown shows how liberating it is when we stop pursuing unattainable ideals of perfection-and start embracing who we truly are. In this rich exploration of the themes she introduces in her popular TED talks, Dr. Brown explores:
. The differences and similarities between the experience of shame for men and women
. Guilt vs. shame-why one is a useful force for growth, while the other holds us back
. The four elements of shame resilience-identifying triggers, critical awareness, reaching out, and speaking honestly
We often try to deal with shame by numbing ourselves to it-but in doing so, we deaden our experience of the joys of life as well. With the trademark warmth, candor, and humor that has made her such a celebrated speaker, Brené Brown offers us an alternative to running away from the "unworthy" parts of ourselves. Here is a bold invitation to let go of your beliefs of who you should be-so you can recognize the full potential of the person you are.
_______________
Native Wisdom/
[Audio CD] – Abridged, Audiobook
by Ken Cohen(Author)
CD BL 624 .C625 2003
Qigong master Ken Cohen spent 35 years studying, practicing, and training with elder healers from the Native American, African, Siberian, Aboriginal, and Chinese indigenous traditions. Now, he shares the common threads that tie these paths together on Native Wisdom-a distillation of the great teachings of the world's indigenous cultures into seven principles that open you to inner peace and fulfillment. Includes: Prayers to invoke the wisdom of the Great Spirit * "Pathway of Peace"-a seven-step meditation for visualizing truth, love, intuition, and other intrinsic values A natural approach to nourishing your body based on your ancestry, and more.
________________
The Roots of Buddhist Psychology /
Audio CD – Audiobook
by Jack Kornfield(Author)
CD SWC 294 .3019

The Buddha said many times that just as the great oceans have but one taste, so do all the true teachings of the dharma: the taste of freedom. Jack Kornfield's The Roots of Buddhist Psychology is an invitation to drink deeply of these teachings – to taste the wisdom that flows from the heart of Buddhism's most useful ideas on the interior life, and what brings awakening, freedom, and happiness. Among the world's great religions, Buddhism alone has developed a rich, intricate psychology based not on metaphysics, but on the human predicament. Through its strategies, you can find the way to true freedom. Buddhism views the mind as a labyrinth of feelings, perceptions, and emotional states. Unhappiness is rooted in unskillful responses to our world: grasping when things are pleasant, aversion when they are unpleasant, and delusion/confusion when they are neutral. Through awareness training, Kornfield teaches, you can transform these responses into real skills that are the path to true happiness. This is the way to "inner stillness" – the deathless state that allows your wisdom and compassion to flow together for a state of greater knowing. Enlivened with many parables, worldly stories, and thoughts from artists, philosophers, and writers, The Roots of Buddhist Psychology can help you to discover for yourself that what you seek is already here.
_______________
Sitting by the Well /
Audio CD – Audiobook
by Marion Woodman(Author)
HQ 1190.W66 1998
On Sitting by the Well, acclaimed Jungian analyst Marion Woodman uses dreams, symbols, and body imagery to reach into the shadows of the unconscious mind and cast light on our everyday lives. Here is a poetic culmination of Woodman¿s many years of work with the psychological impact of patriarchy on men¿s and women¿s lives ¿ from distorted body image and addiction, to sexual trauma and relationships, to our ultimate connection with the Great Mother: matter, and Great Father: spirit. On six digitally remastered archival recordings, Woodman unravels Carl Jung¿s core teachings on archetypes and the unconscious, and analyzes how dreams and metaphors provide powerful healing tools for the psyche. You will hear the evolution of Woodman¿s theories over the past decade, while vividly sharing her insights into what we each must do to open to spirit and find meaning in our suffering. For all of us interested in what Marion Woodman calls ¿the language of our instincts,¿ Sitting by the Well is a one-of-a-kind guide for learning it.
Synopses from Amazon.com
_______________
PERIODICALS:
Art in America ~ Volume 102, Number 4 ~ April 2014
Art Therapy:Journal of the AATA.. ~ Volume 31, Number 1 ~ 2014
Behavioral HealthCare~ Volume 34, Number 2 ~ March/April 2014
gradPSYCH ~Volume 12, Number 2 ~ April 2014
Mindful ~ Volume Two, Number 2 ~ June 2014
Monitor on Psychology ~ Volume 45, Number 4 ~ April 2014
Scientific American Mind ~ Volume 25, Number 3 ~May/June 2014