Join us for the next Capstone Presentation April 16, 6:00, AT classroom

Two Movie Nights at SWC,April 23, MILK and May 21, Frida , rsvp to officemgr@swc.edu

Community Lecture Wed. April 30, 6-8pm: Understanding and Working with Borderline Personality Disorder presented by Laura Lansrud-Lopez, RSVP to officemgr@swc.edu

The Nuts and Bolts of Starting a Private Practice workshop, May 3rd 9:oo am-12:30 pm, downstairs classroom
Quimby Memorial Library
Home

›

Quimby Memorial Library
Share this:
Library Hours for 2014 Spring Quarter:
Monday – Thursday ~ 8:45 a.m. to 6 p.m.
Friday ~ 8:45 a.m. to 4 p.m.
Saturday ~ 10 a.m. to 5 p.m.
Sunday Closed
Direct Phone: (505) 467-6825
Toll free: (877) 471-5756 ext. 6825
---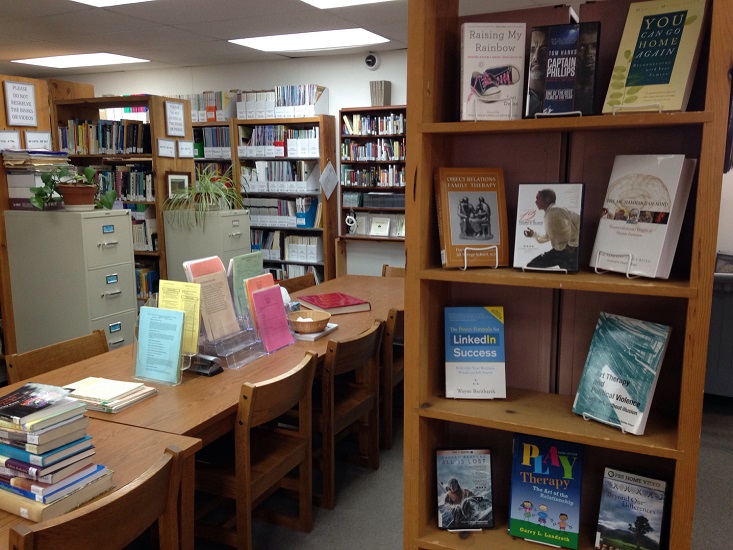 About the Library:
The Quimby Memorial Library supports the curriculum of Southwestern college and the research needs of its students, faculty, administration, staff, alumni and college community." 

~Leslie Monsalve-Jones, Library Director
With approximately 18,500 books, journals and audiovisual items, the Quimby Memorial Library directly supports teaching and research in art therapy, counseling, grief and loss, transformational Eco-psychology, applied psychology and experiential education. Patrons enjoy access to in-house databases as well as to inter-library loans and may request books, journal articles, and publications from libraries throughout the United States.
Through Internet services, access is provided to on-line catalogs in several New Mexico college libraries for course work and research. Also available are several powerful national databases – EBSCO, Gale, First Search and World Cat. These indexes provide abstracts and full-text articles from several well known scholarly journals.
Our campus library includes the Phineas Quimby Collection of rare books, which focuses on comparative religion and metaphysics. It is one of the more significant collections of metaphysical materials in the country. Learn more about Phineas Parkhurst Quimby, father of 'new thought,' scholar, clockmaker, inventor and healer.
New to Quimby, March 2014:
BOOKS:
The Archaeology of Mind: Neuroevolutionary Origins of Human Emotions (Norton Series on Interpersonal Neurobiology) [Hardcover]
Jaak Panksepp (Author), Lucy Biven (Author)
BF531.P36 2012
What makes us happy? What makes us sad? How do we come to feel a sense of enthusiasm? What fills us with lust, anger, fear, or tenderness? Traditional behavioral and cognitive neuroscience have yet to provide satisfactory answers. The Archaeology of Mind presents an affective neuroscience approach—which takes into consideration basic mental processes, brain functions, and emotional behaviors that all mammals share—to locate the neural mechanisms of emotional expression. It reveals—for the first time—the deep neural sources of our values and basic emotional feelings.
This book elaborates on the seven emotional systems that explain how we live and behave. These systems originate in deep areas of the brain that are remarkably similar across all mammalian species. When they are disrupted, we find the origins of emotional disorders:
- SEEKING: how the brain generates a euphoric and expectant response
- FEAR: how the brain responds to the threat of physical danger and death
- RAGE: sources of irritation and fury in the brain
- LUST: how sexual desire and attachments are elaborated in the brain
- CARE: sources of maternal nurturance
- GRIEF: sources of non-sexual attachments
- PLAY: how the brain generates joyous, rough-and-tumble interactions
- SELF: a hypothesis explaining how affects might be elaborated in the brain
The book offers an evidence-based evolutionary taxonomy of emotions and affects and, as such, a brand-new clinical paradigm for treating psychiatric disorders in clinical practice.
Art Therapy and Political Violence: With Art, Without Illusion [Paperback]
Debra Kalmanowitz (Editor), Bobby Lloyd (Editor), Shaun McNiff (Foreword)
RC489 .A7 A768 2005
The impact of political violence, war, civil war and acts of terrorism on the individuals involved can be extensive. Art therapy can provide an effective means of expressing the resulting experiences of fear, loss, separation, instability and disruption. Art Therapy and Political Violence brings together contributions from all over the world and from diverse theoretical backgrounds. With contributions from Northern Ireland, Kosovo, Israel and South Africa, the book includes numerous clinical examples to vividly illustrate the main issues affecting art therapy. The practical issues involved are also discussed, including subjects such as the importance of working with both the internal and external worlds of the individual and sensitivity to cultural issues. Art therapists, psychotherapists and other mental health professionals, particularly those working in the context of political violence or in countries of refuge, will find the experiences recounted in Art Therapy and Political Violence thought-provoking and will welcome the wealth of practical information provided.
Beyond Borders: Thinking Critically About Global Issues [Paperback]
Paula S. Rothenberg (Author)
JZ1320.4.B49 2006
Featuring readings from today's leading scholars, activists and policymakers, Beyond Borders helps today's college students navigate our increasingly globalized world and think critically about their place in it. This powerful collection encourages students to not only understand the global realities we are faced with today but also the history that gave rise to them.  In addition to introducing students to the major forces of globalization, the significant treaties and events, and the organizations involved, Beyond Borders challenges students to shift and broaden their perspective by examining the experiences of people across the globe.   In classic Rothenberg style, in-depth part introductions provide a conceptual framework for understanding the issues at hand and "Questions for Thinking, Writing, and Discussion" at the conclusion of each part challenge students to think deeper about issues.
The Genogram Journey: Reconnecting with Your Family /  Rev. ed. [ Paperback ]
by Monica McGoldrick (Author
HQ 518.M38 2011
The godmother of genograms revises her revelatory work that explores how to reconnect with your past and invent a new future.
This notable work poignantly explains how a tool of family history—gathering the genogram, or a basic family tree—can help us to better understand and mend family relationships and dynamics. Here, fully updated for the first time, Monica McGoldrick's book elaborates on the ways in which genograms can reveal a family's history of estrangement, alliance, divorce, or suicide, exposing intergenerational patterns that prove more than coincidental. Weaving together photographs and genograms of famous families—including the Kennedys, the Freuds, and the Fondas—she sheds light on a range of complex issues such as birth order and sibling rivalry, family myths and secrets, cultural differences, couple relationships, and the pivotal role of loss.
In this important work, readers learn to mine previously untapped information about their own family patterns, leading to a reconnection to home and a deeper sense of identity. Originally published as You Can Go Home Again.
Honoring the Child Spirit: Inspiration and Learning from Our Children [Hardcover]
by Shmuley Boteach (Author)
ML 420 .J175 A5 2010
Honoring the Child Spirit is an inspirational, emotional, and prescriptive book that calls upon each of us to recognize and honor the openness, creativity, innocence, and awe of children—and to tap into and pay tribute to the childlike spirit that lies at the heart of us all.
Adulthood, according to the late Michael Jackson, is not the be all and end all of growing up and living a worthwhile life. With society's high expectations placed upon maturity and responsibility, we often shut down our curiosity, sense of play, and deep sensitivity. And with this shutting down, we too often fail to recognize and cherish that spirit in our own children—and the world's children—so that they can thrive and flourish as children.
With evocative chapters on the childlike qualities most important to Michael Jackson—from Awe and Wonder, Creativity, and Gratitude to Imagination and Security—this heartfelt book gives voice to the eternity of Michael's spirit and how he should be remembered: as someone who tried to live by these childlike qualities. Though far from perfect, it was this attempt to sustain innocence amidst the trappings of fame that became his life's goal.
The Interpersonal Neurobiology of Group Psychotherapy and Group Process [Paperback]
Susan P. Gantt (Editor), Bonnie Badenoch (Editor)
RC488.G237 2013
Might it be possible that neuroscience, in particular interpersonal neurobiology, can illuminate the unique ways that group processes collaborate with and enhance the brain's natural developmental and repairing processes? This book brings together the work of twelve contemporary group therapists and practitioners who are exploring this possibility through applying the principles of interpersonal neurobiology (IPNB) to a variety of approaches to group therapy and experiential learning groups. IPNB's focus on how human beings shape one another's brains throughout the life span makes it a natural fit for those of us who are involved in bringing people together so that, through their interactions, they may better understand and transform their own deeper mind and relational patterns. Group is a unique context that can trigger, amplify, contain, and provide resonance for a broad range of human experiences, creating robust conditions for changing the brain.
The chapters included here introduce and highlight the theoretical and research literatures from an IPNB perspective, especially the newer understandings of brain plasticity, mirror neurons, the autonomic nervous system, implicit and explicit memory, affect regulation and the relation between attachment and brain development. Building on these understandings, the authors elaborate on work with varying types of groups as seen through an IPNB lens, for example; how systems-centered therapy creates a rich neurobiological climate that supports integration; how children's groups can help with sensory motor, psychological, and interpersonal development; how using an IPNB frame enables couples' groups to attain more solid interpersonal regulation; and how experiential learning groups can transform implicit memory.
Intimate Treason: Healing the Trauma for Partners Confronting Sex Addiction/ Paperback
by Claudia Black  (Author) , Cara Tripodi (Author)
RC 560.S43 B53  2012
Those in an intimate relationship with someone struggling with sex addiction will find hope and relief as they work through the exercises in this self-help workbook. They will also develop a better understanding of what is happening in their lives and find a path to healing and recovery.
Mindfulness-Based Relapse Prevention for Addictive Behaviors: A Clinician's
Guide [Paperback]Sarah Bowen (Author), Neha Chawla (Author), G. Alan Marlatt (Author)
RC 564.B68 2011
This authoritative book presents an innovative relapse prevention program that integrates mindfulness practices with evidence-based cognitive and behavioral strategies. Clinicians get essential information and materials for implementing the approach with their clients. In eight carefully structured group sessions, participants gain awareness of their own inner experiences, step out of habitual patterns of thought and behavior that can trigger relapse, and acquire concrete skills to meet the day-to-day challenges of recovery. User-friendly features include detailed guidelines for facilitating each session, scripted examples of guided meditations, and more than 20 reproducible handouts and forms.
Object Relations Family Therapy (The Library of Object Relations) [Paperback]
David E., M.D. Scharff (Author), Jill Savege Scharff (Author)
RC488.5.S365 1991
This book gives individual psychotherapists a way of using dynamic listening and interpreting when working with couples and families, and it offers family therapists the powerful tools of psychoanalysis to deepen their understanding and skills. (Samuel Slipp, M.D.)
In Object Relations Family Therapy, David and Jill Scharff offer the most in-depth and thoughtful exploration of the relevance of modern psychoanalytic theory to family therapy to be found to date. . . . Recently the field is showing a reawakened interest in the psychodynamics of family relationships, and the Scharffs' book heralds this remarriage of concern with the inner and outer lives of people. I believe that he publication of this book is a significant event; it will become a modern classic. (Alan A. Gurman, Ph.D.)
Play Therapy: The Art of the Relationship /  3rd edition [Hardcover]
Garry L. Landreth (Author)
RJ505.P6 L26 2012
Play Therapy: The Art of the Relationship is the newest incarnation of Garry Landreth's comprehensive text on creating therapeutic relationships with children through play. It details Landreth's Child-Centered Play Therapy model, which stresses the importance of understanding the child's world and perspective. This approach facilitates the play therapy process while allowing therapist and client to fully connect. Professors who have taught a course based on the previous edition will be pleased to find the core message intact, but updated with a significant body of recent research. Expanded to cover additional topics of interest, the new edition includes:
a full chapter on current research in play therapy
new sections on supervising play therapists, legal and ethical issues and multicultural concerns
30 new photographs that show the author demonstrating techniques in-session
practical tips for working with parents
instructions on play room set-up and materials
online instructor resources.
The Third Edition will feel both familiar and fresh to educators and trainers who have relied on Landreth's text for years. The guidelines, transcripts, and case examples offered help therapists govern sensitive issues at every stage of the therapeutic process, from the first meeting to the end of the relationship.
The Power Formula for LinkedIn Success: Kick-start Your Business, Brand, and Job Search/ (Second Edition – Entirely Revised) [Paperback]
by Wayne Breitbarth (Author)
HD30.37B74 2011
2nd Edition of the world's most popular LinkedIn book
Many LinkedIn books focus solely on creating a killer LinkedIn profile. But LinkedIn is not a passive sport. You can't just sit around waiting for people to find your awesome profile.
This book will help you create a top-notch profile AND make REAL MONEY with LinkedIn.
Tens of thousands have already used Wayne Breitbarth's LinkedIn secrets to land lucrative new customers, find great new jobs, and, of course, generate more income.
And most people have only scratched the surface of LinkedIn's potential.
This completely updated and expanded 2nd Edition of Breitbarth's bestselling book The Power Formula for LinkedIn Success will help you:
Set yourself apart from the LinkedIn masses
Get people to immediately engage with you after they see your profile
Find the right people and turn them into customers
Discover insider information about employers, customers, and even your competitors
Find a great new job–many times when you're not even looking for one!
LinkedIn is one of the most powerful business tools on the planet. You NEED to learn how to use it. And this book is your perfect step-by-step guide.
My Voice Will Go with You: The Teaching Tales of Milton H. Erickson/ [Paperback]
by Sidney Rosen
RC480.5.E74 1982
A chalice of wisdom for our time."—Ernest L. Rossi, Ph.D., C.J. Jung Institute of Los Angeles
Milton H. Erickson has been called the most influential hypnotherapist of our time. Part of his therapy was his use of teaching tales, which through shock, surprise, or confusion—with genius use of questions, puns, and playful humor—helped people to see their situations in a new way. In this book Sidney Rosen has collected over one hundred of the tales. Presented verbatim and accompanied by Dr. Rosen's commentary, they are grouped under such headings as Motivating Tales, Reframing, and Capturing the Innocent Eye.
The Spirit Catches You and You Fall Down: A Hmong Child, Her American Doctors, and the Collision of Two Cultures [Paperback]
by Anne Fadiman (Author)
RA 418.5.T73 F33 1997
The Spirit Catches You and You Fall Down explores the clash between a small county hospital in California and a refugee family from Laos over the care of Lia Lee, a Hmong child diagnosed with severe epilepsy. Lia's parents and her doctors both wanted what was best for Lia, but the lack of understanding between them led to tragedy. Winner of the National Book Critics Circle Award for Nonfiction, the Los Angeles Times Book Prize for Current Interest, and the Salon Book Award, Anne Fadiman's compassionate account of this cultural impasse is literary journalism at its finest. The current edition, published for the book's fifteenth anniversary, includes a new afterword by the author that provides updates on the major characters along with reflections on how they have changed Fadiman's life and attitudes.
Stuart Hall: Critical Dialogues in Cultural Studies/ [Paperback]
Kuan-Hsing Chen (Editor), David Morley (Editor)
HM101 .S83 1996
Stuart Hall's work has been central to the formation and development of cultural studies as an international discipline. Stuart Hall: Critical Dialogues in Cultural Studies is an invaluable collection of writings by and about Stuart Hall. The book provides a representative selection of Hall's enormously influential writings on cultural studies and its concerns: the relationship with Marxism; postmodernism and 'New Times' in cultural and political thought; the development of cultural studies as an international and postcolonial phenomenon, and Hall's engagement with urgent and abiding questions of 'race', ethnicity and identity.
In addition to presenting classic writings by Hall and new interviews with Hall in dialogue with Kuan-Hsing Chen, the collection, which includes work by Angela McRobbie, Kobena Mercer, John Fiske, Charlotte Brunsdon, Ien Ang and Isaac Julien, provides a detailed analysis of Hall's work and his contribution to the development of cultural studies by leading cultural critics and cultural practitioners. The book also includes a comprehensive bibliography of Stuart Hall's writings.
Therapeutic Communication, Second Edition: Knowing What to Say When [Paperback]
Paul L. Wachtel PhD (Author)
RC480.8.W33 2011
A uniquely practical guide and widely adopted text, this book shows precisely what therapists can say at key moments to enhance the process of healing and change. Paul Wachtel explains why some communications in therapy are particularly effective, while others that address essentially the same content may actually be countertherapeutic. He offers clear and specific guidelines for how to ask questions and make comments in ways that facilitate collaborative exploration and promote change. Illustrated with vivid case examples, the book is grounded in an integrative theory that draws from features of psychodynamic, cognitive-behavioral, systemic, and experiential approaches.
New to This Edition
* Reflects nearly 20 years of advances in the field and refinements of the author's approach.
*Broader audience: in addition to psychodynamic therapists, cognitive-behavioral therapists and others will find specific, user-friendly recommendations.
*Chapter on key developments and convergences across different psychotherapeutic approaches.
*Chapter on the therapeutic implications of attachment theory and research.
See also Wachtel's Relational Theory and the Practice of Psychotherapy, which explores a new direction in psychoanalytic thought that can expand and deepen clinical practice.
You Can Go Home Again: Reconnecting with Your Family/ [Paperback] Monica McGoldrick (Author)
HQ 518.M38 1997
Those who learn from the past are not condemned to repeat it. In this revelatory book, family therapist Monica McGoldrick explains how the use of genograms (family trees) can bring to light a family's history of estrangement, alliance, divorce, or suicide, revealing intergenerational patterns that prove more than coincidental.
McGoldrick's genograms of famous families, such as the Kennedys, Hepburns, Beethovens, and Brontës, complement discussion of the influence of birth order and sibling rivalry, family myths and secrets, cultural differences, couple relationships, and the pivotal role of loss. At the close of each chapter are questions that train the reader to think as researcher; with McGoldrick's guidance, we learn to mine previously untapped information about our own family patterns. Photographs, drawings.
_________________________________________________________
DVDs:
Captain Phillips (Scott Rudin Productions, Paul Greengrass, dir.)
DVD PN 1997.2 .c37 2014
Captain Richard Phillips attempts to escape from armed Somali pirates while the U.S. Navy tries to rescue him.
DVD BL 48.B49 2009
With all of the problems facing the world today, people are longing for meaning. Many find answers in religion or spirituality, but as a result faith and religion are often hijacked by those seeking to enhance their own power. With this dichotomy in mind, "Beyond Our Differences" calls upon key religious leaders, politicians, and luminaries in their fields and it asks what it is that inspires them to affect positive change.
NOW hosted by David Brancaccio. / June 26, 2009, Homes for the homeless
DVD HV4505.N69 2009
"American streets are littered with foreclosed houses, but one daring advocate says these homes shouldn't go to waste. He encourages and facilitates homeless squatting. It's an idea that addresses two issues at once–homelessness and foreclosed homes–and it's also illegal. NOW travels to Miami to meet with Max Rameau, an advocate for the homeless. Rameau's organization, Take Back the Land, identifies empty homes that are still livable, and tries to find responsible families willing to take the enormous legal risks of moving in. Rameau, who considers his mission an act of civil disobedience, says it's immoral to keep homes vacant while there are human beings living on the street. But while these squatters have morality in their hearts, they don't have the law on their side."
The Hungry Heart/

DVD RC 564.66.V5 H86 2013
The Hungry Heart provides an intimate look at the often hidden world of prescription drug addiction through the world of Vermont Pediatrician Fred Holmes who works with patients struggling with this disease. Dr. Holmes prescribes suboxone to his patients struggling with prescription drug addiction. Much like methadone, suboxone helps many addicts in their recovery process- for some taking suboxone is a crucial stepping stone to long term recovery, for others it is a crutch, for others suboxone is abused and diverted onto the street. Through the  film we see Dr. Holmes struggling with these challenges and trying to make sense and keep the faith in the midst of many contradictions. Most importantly however, as the film progresses we begin to see the simple but profound connection that Dr. Holmes creates with each patient. The film shines a light on the healing power of conversation and the need for connection that many of these young addicts yearn for but do not have in their lives. In addition, the film interviews a number of older addicts who talk about their recovery process juxtaposed against Fred's patients. The road to recovery is paved with both success stories and strewn with relapses, downfalls and tragic losses. However, through the movie we see the many faces and diverse .
Makers: Women Who Make America
HQ 1391.U5 M35 2013
MAKERS: Women Who Make America tells the remarkable story of the most sweeping social revolution in American history, as women have asserted their rights to a full and fair share of political power, economic opportunity, and personal autonomy in the last 50 years. It's a revolution that has unfolded in public and private, in courts and Congress, in the boardroom and the bedroom, changing not only what the world expects from women, but what women expect from themselves. MAKERS brings this story to life with priceless archival treasures and poignant, often funny interviews with those who led the fight, those who opposed it, and those first generations to benefit from its success. Trailblazing women like Hillary Rodham Clinton, Ellen DeGeneres, Gloria Steinem, Eleanor Holmes Norton, and Linda Alvarado share their memories, as do countless women who challenged the status quo in industries from coal-mining to medicine. MAKERS captures with music, humor, and the voices of the women who lived through these turbulent times the dizzying joy, aching frustration, and ultimate triumph of a movement that turned America upside-down.
Precious Knowledge/

Arizona's battle over ethnic studies in public schools, while students transform lawmakers push to eliminate the classes.
Synopses from Amazon.com
____________________________________________________
PERIODICALS:
American Psychologist ~ 2014, Vol. 69, No.2 Feb/Mar.2014
Art in America ~Vol. 102, No. 3. ~ March 2014
ARTnews ~ March 2014
Behavioral Healthcare ~ Vol. 34, No. 1  ~  Jan/Feb 2014
Counselor ~  Vol. 15, No. 1 ~ February 2014
Mindful ~ April 2014
Monitor on Psychology  ~ Vol. 45, No. 3 ~ March 2014
Monitor on Psychology  ~ Vol. 45, No. 4 ~ April 2014
Parabola ~ Vol. 39 , No. 1  ~ Spring 2014
Psychology of Aesthetic, Creativity, and the Arts ~ Vol. 8, No. 1~ Feb 2014
Psychology of Religion and Spirituality ~ Vol. 6, No. 1 ~ February 2014
Psychological Review ~ Vol. 121, No. 1. ~ January 2014
Psychotherapy Networker ~ Vol. 38, No. 2 ~ March/April 2014
Scientific American Mind ~ Vol. 25, No. 2 ~ Mar/Apr 2014
Shambhala Sun ~ Vol. 22, No. 4 ~ March 2014
Shambhala Sun ~ Vol. 22, No. 5 ~ May 2014
YES! ~ Issue 69 ~ Spring 2014
Zero To Three ~ Vol. 34, No. 4 ~ March 2014