Gardens and Labyrinth
Home

›

Gardens and Labyrinth
Share this:

The Santa Fe weather is relatively mild with over 300 days of sunshine each year. As a result, students and faculty enjoy time outdoors and we have created space on campus for socializing as well as quiet reflection.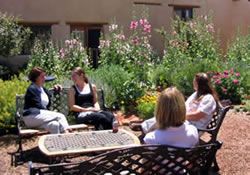 We have a garden in the center of campus where many students spend time. There are prayer flags here from the native American tradition as well as a Quan Yin statue where some meditate. As a student here, you might find yourself doing a class exercise out in this garden during the spring, summer or fall months.
We have recently created a peace and meditation garden adjacent to the art therapy complex that is available for peaceful reflection. The garden has a "zen-like" feel with a pergola, rock fountains and seating to offer respite before or after classes and special events.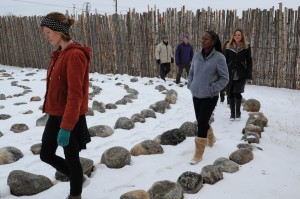 There is also a labyrinth on campus that was created by the students from the Grief, Loss & Trauma Certificate program. The labyrinth is used by individuals for meditation and students may also find they are using it within the context of a class. Adjacent to the labyrinth is a fire pit for ceremony and ritual—commonly used in the Transformational Ecopsychology program and during weekend intensives in the Consciousness courses.