Conscious Entrepreneurship Testimonials
Home

›

Conscious Entrepreneurship Testimonials
Share this:
Not only do the social media courses with Laura, Ande and Jim enhance my personal use of internet computer time, they also help me in staying on top of modern strategies for career purposes. After the LinkedIn workshop, for example, I realized that my profile was in sore need of updating, as per all the recent LinkedIn upgrades. After I was done inputting my new updates, I felt as though my cyber resume was primed for attracting more work – or at least for staying current with the work industry on the internet. When all is said and done though, perhaps one of the best parts about these free and friendly gatherings is that I no longer feel like the only person over 40 who suffers from multi-media overwhelm! Thanks guys!                    — Brii Sebastian, transpersonal-chakra therapist and voice actress
I appreciate your encouragement and enthusiasm for Pinterest! The world of social media is mind boggling to me. I start to get the hang of something and then it all changes. And it keeps changing faster and faster. Fortunately, Southwestern College leaders have a strong interest in keeping up on the current trends in the field (and in the world) and making sure SWC students are aware of the many ways they can utilize social media. These amazing tools will certainly help me support myself in my future work, whatever that may be. But way beyond that, if I have original ideas, a passion for them and a willingness to put myself out there, the potential for thought leadership is enormous.Last Tuesdays presentation on Pinterest fueled my interest in collecting all my favorite images in one place. No more file folders and scissors. Click. Click. Click. Digitally done! Laura made it look easy. Ande made it look like a lot of fun. And Jim made it look like a no brainer to hop on board. Thank you!         Amy Hautman Bates, SWC Student
ArtTherapyGirl and I Twitter under that name too @ArtTherapyGirl. So I tested my new skills. I work for an artist in town and I decided to build a board with his work on it. I did it and this time I used the #hash tags within the descriptions and was able to finally successfully link his website with the pictures of his work I had on my board. Thank you Ande! Here's the awesome part. I also built another board for the Turquoise Trail Sculpture Garden which resides on his beautiful property. Using my skills I #hash tagged everything and started linking photo's and then I went home. I came into work the next day and in my work email box was a request from the editor of the Spirit of the West Magazine, she was requesting some high res photo's of the Sculpture Garden for an article they are doing on Hwy 14, otherwise known as The Turquoise Trail. Coincidence? I don't think so. Excited ArtTherapyGirl? Yes!     KaSandra Verett 
Southwestern College's free workshops are an example of the cutting edge progressive approach Southwestern College offers it's students and the community at large. From the workshops offered I have been learning how to approach the vast horizon of internet branding and marketing to become a modern entrepreneur. Such offerings are priceless to students (such as myself) who want to learn how to launch, establish, and brand a private practice online; the business frontier of today– Sylvan Schneider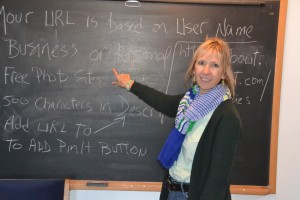 I've attended Social Media for Healing Professionals, Pinterest and Blogging workshops presented by SWC's Conscious Entrepreneurship series, and found all these workshops to be very informative, full of personal insight, tips and tricks learned by hard-earned experience, and fun on top of that. These Social Media series are truly a gift: in the world of quickly accelerating information overload, these wonderful people actually did all the leg work, read the books, spent hours trying to figure it out, digested the information and are willing to present it all to us in a comprehensive and easy to understand format (and for free to boot!!). I am very grateful to Jim, Laura, Andy and others who are involved in this generous undertaking.
Inessa Mil'berg