Upcoming class in the Human Sexuality Certificate program: Pornography and the Question of Sex Addiction, Nov. 7, 8 and 9

Upcoming Class in the Transformational Eco-psychology certificate, The Medicine Ways of Eagle and Condor, Nov. 21, 22 and 23

Upcoming class in the AIN certificate: Integrating Brain, Body & Heart Intelligence, Nov. 14, 15 and 16.

Meet and Greet Dr. Ann Filemyr, the New Dean of SWC, Wed., Nov 5th, 5:30-7:30 in the downstairs classroom. RSVP to officemgr@swc.edu

Please RSVP NOW for our very special Graduation Ceremony for the class of 2014, Sat. Nov. 1, 10am at the James A. Little Theater, 1060 Cerrillos Rd. Refreshments served afterwards. RSVP to officemgr@swc.edu

HAPPY HALLOWEEN!!
Tuition and Financial Aid
Home

›

Tuition and Financial Aid

Affording Southwestern College
In the past few years, a lot of national attention has been focused on the affordability of higher education, and on the employment market for graduates. While Southwestern College has always been sensitive and attuned to these issues, we have become even more committed to making the Southwestern College experience affordable and a good value. On these pages, you will learn about scholarships, graduate assistantships, federal loans, tuition forgiveness programs, and other resources and strategies for making Southwestern College affordable. Information on jobs currently available in the field can be found on President Nolan's "Jobs in Mental Health" web site.
Tuition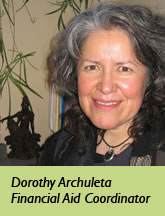 The tuition at Southwestern College for 2014-15  is currently a very competitive $500 per credit hour, and scholarships or graduate assistantships would bring that cost down for eligible students. At Southwestern College, we are acutely aware of the economy, and of the job market, and of the need to offer great value and affordability in the educational experience we provide. That is why we have increased our Financial Aid options significantly, as you will see. The M.A. degree programs require 91 quarter units or credit hours. (This translates into 65 semester hours.) Total tuition will vary each quarter, depending on the number of quarter units taken during that quarter. If you are attending full time, you may be taking from 12 to 17 quarter hours, and if attending part time, more like 6 to 10 quarter hours. As a private institution, there is no difference between in-state and out-of-state tuition. Tuition increases typically occur on an annual basis in the Fall quarter.
Financial Aid and Scholarships
Most Southwestern College students finance their graduate work using some combination of Federal Financial Aid, scholarships, personal or family savings, working while in school, or private lender loans. Dorothy Archuleta, our Financial Aid Administrator, is the most helpful person in the world in figuring out how that program can work for you. Feel free to contact her at the following: finaid@swc.edu Direct (505) 467-6811 Toll-Free (877) 471-5756 Ext. 6811 Fax line (505) 467-6812
At the links below, you will find information on Scholarships, Graduate Assistantships,  and State and Federal Financial Aid options:
Tuition Assistance Program (TAP)
Resources – Scholarships
For more information
contact Dorthy Archuleta
finaid@swc.edu
Direct: (505) 467-6811
Toll-Free: (877) 471-5756 Ext. 6811
Fax: (505) 467-6812