Judy Weiser, R.Psych., A.T.R.
Share this: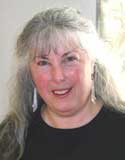 Judy Weiser is a psychologist, art therapist, consultant, trainer, college instructor, author, and early pioneer of "PhotoTherapy techniques". Director of the PhotoTherapy Centre in Vancouver Canada (which she founded in 1982), Adjunct Faculty in the Counseling Masters Degree Program at Southwestern College, and former Editor of the Journal PhotoTherapy, Judy has long been considered the "world authority" on PhotoTherapy and Therapeutic Photography ‐‐ and has given several hundred workshops, lectures, and training intensives about these techniques worldwide during the past 30 years.
Author of the classic text "PhotoTherapy Techniques: Exploring the Secrets of Personal Snapshots and Family Albums" (now in third printing and three languages), and the informational resource website "PhotoTherapy Techniques in Counseling and Therapy", [at: www.phototherapy‐centre.com ], she has also produced numerous professional articles, book chapters, and a video/DVD on these subjects. She also runs the popular Facebook Group: "PhotoTherapy, Therapeutic Photography, Photo Art Therapy, & VideoTherapy".
After over thirty years of therapy practice using PhotoTherapy techniques to help clients from non‐mainstream, marginalized and otherwise‐excluded populations, her current work focuses on providing training, consulting, and education to mental health professionals (and graduate students) world‐wide, teaching them how to use these techniques to improve their work helping individuals, families, and communities. Judy Weiser can be reached at: jweiser@phototherapy‐centre.com