Deborah Schroder, M.S., ATR-BC, LPAT
Program Chair for Art Therapy/Counseling Program and Children's Mental Health Certificate, Deborah received her BA and an MS in Art Therapy from Mount Mary College in Milwaukee, WI, where she taught undergraduate and graduate courses in art therapy. Deborah has explored the uses of art therapy in a wide variety of milieus including inpatient and day-treatment settings, a nursing home, a school, a community art center and in private practice. Deborah is the author of Little Windows into Art Therapy: Small Openings for Beginning Therapists, published by Jessica Kingsley. She has a strong interest in international art therapy, and has lectured overseas in Northern Ireland, Greece and Portugal.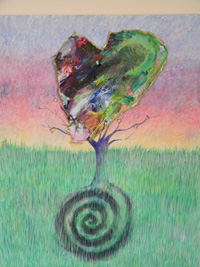 Approach to Teaching
"Trust the art" is Deborah's most-used phrase when talking with students about art therapy. Her experience with her own artmaking, and years of making art with clients and watching their processes has continuously reaffirmed her belief that art comes from soul.
When she taught a week of summer school in Belfast, a student who was a potter was struggling with the decision to become an art therapist. By the end of the week he had transformed a teapot, giving it a face and arms and feet, and most importantly, a voice. His creation's voice spoke with passion to him and the rest of the class, about being an art therapist.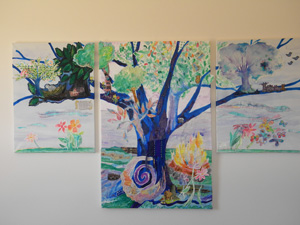 Deborah believes that the honesty of the art moves clients, shifts perceptions and summons up messages from deep inside one's spirit.  She talks about a rather skeptical client who "lived in his head" and came to family art therapy reluctantly. He was moved to tears by his own tentative, stick-figure drawing of himself embracing his daughter and wife. He hadn't been able to verbalize that desire, and so the image arrived and spoke from his soul about what he deeply yearned for.Students in Deborah's classes are encouraged, and expected, to learn art therapy from the authentic encounter with their own souls during the artmaking process.