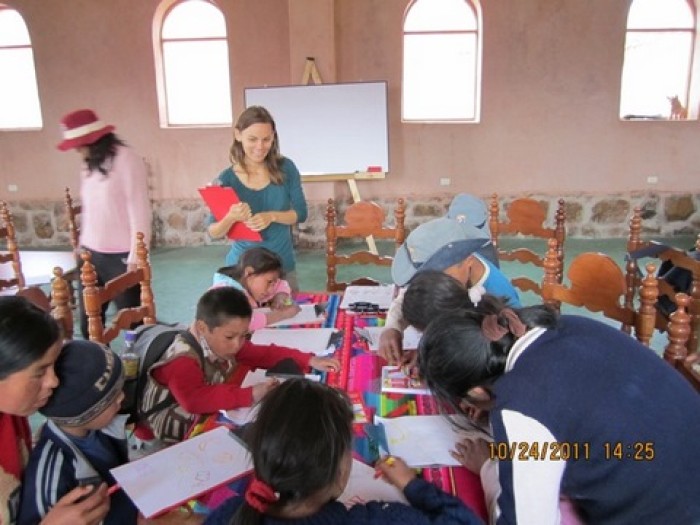 Update from SWC Interns in Maras, Peru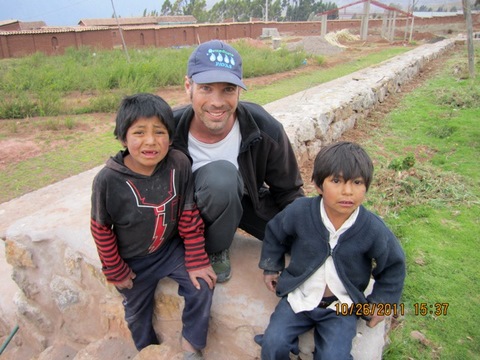 We have been continuing with our jewelry making theme, by using colored cords to make macrame necklaces and bracelets. We also have colorful beads available, which accent nicely with the cords. We are hoping this project well help as we transition into crochet. Most of the children are able to grasp the knotting techniques with, of course, some initial instruction. Again, they are really proud of their creations.
This project has been too difficult for some of the younger siblings that come along to our groups, but they are generally content to play and draw pictures. If there is time between helping others complete their projects, I often enjoying making tiny bracelets for the little ones. It's fun for me because I can make colorful patterns that might not look as appropriate for an adult. We will continue with jewelry making for one more week, giving more choices for possible projects. We would also like to give more instruction to the older children in regards to starting and finishing a piece, as we usually do this part for them.
Having different age and ability levels in our groups has us thinking about alternative projects. With one child, who has some physical limitations and I suspect mental challenges as well, finding a way for him to participate came about organically. At first he was playing with our youngest group member, the daughter of the caretaker here at ARI. They are buddies and play together often, while the other children are working on the daily project. Sometimes another children will even complete the project for him.
This time, however, he came over and started twisting the cords together tightly. I was glad to see him show an interest, so I asked if he would like to add some beads. He said yes, and was able to wear home something of his own creation. Later, as we were walking the children out, this child was way ahead of me in the group. Despite his limp, he turned and walked the opposite direction, going out of his way to give me an enthusiastic, "Chao, Profesora." As he usually doesn't say much, especially to adults, it makes me think he really enjoyed the opportunity to complete the project in his own way.
Hi Judy and Carol, hope this is useful for your blog.
much love, Sara
About the Moderator