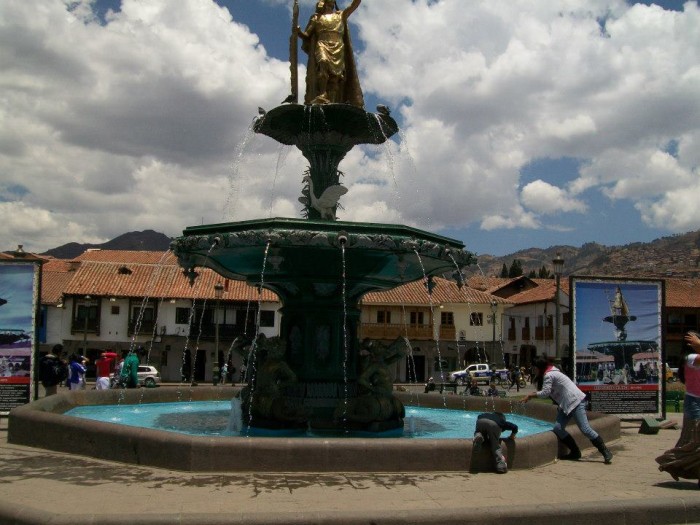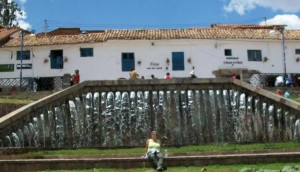 Hi Carol!
Peru so far has been amazing and an incredible opportunity to let go!!! I have had to let go of my plans of printing the children's pictures and creating books because the printer I brought is broken. Becky and I have brainstormed other ways we can create the books so we will still do the project just not in the way I had planned.
I know Becky told you we are actually working Thursday and Friday at the elementary school. We went in on Thursday and found out we would be starting with the older kids, which we planned on doing Friday. Becky and I looked at each other. Very quickly we decided we could do the activity for the little kids with all of the groups. This activity was about the children writing their name and decorating the paper around their name with things they like. Becky and I were amazed at the things the children drew! I wanted the kids to stand up and talk about their pictures but it didn't happen on Thursday probably because of my ability to communicate in Spanish. With Becky's help I wrote a script in Spanish to help me practice giving directions. It worked fairly well. Though I know I have a long way to go!
Eli was there to help but she didn't understand what I wanted the kids to do either.
We were asked by the teachers to incorporate English and some songs in with our projects. I was very happy to hear that request. Working with children in English is much more in my comfort zone. I immediately started to think of ways to do this. One of the ways to do this is to have the children identify the materials we are working with in Spanish and Becky and I indentify the materials in English. I also have lots and lots of children's songs in my head that I will be teaching the children,
I will push myself to make a Spanish version of the songs I teach.
Friday we worked with one 4th grade group and then the primary grades. This day seemed to go much smoother….. partly because we knew what groups we would be working with and we had one day's experience under our belt. The last group in the day were a little difficult….. EVERYONE is kind of tired at that time of day!!
Today we worked with Yuri creating fake fruit with paper mache. Very engaging project for the kids! We will paint the fruit next Saturday.
Children are planning to come to the afterschool program Monday through Friday. And Becky and I will go to the school on Thursdays and Fridays all day. Next week our project for the older kids will be to create 3 circular weavings that will be tied to a hanger to make a mobile. The younger children will create butterflies by folding paper with paint splothes on it.Eli is going to try to get something set up with the kindergarten class (which is at a different school) next week.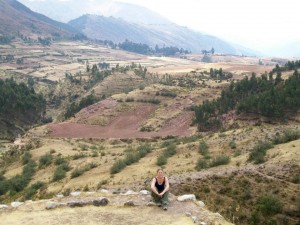 Becky and I are both happy to be working with the children. I am feeling the stretch of learning to communicate in Spanish. Becky is much more relaxed about it than I am.
Becky and I have had some great hikes! This is truly a unique and special place.
With the the challenges of letting go of certain things Becky and I are both grateful to be here.
Both Becky and I would like to take turns checking in…..Becky will do the check in next week.
Many blessings!!!
Becky and Cindy
Southwestern College (Santa Fe) Counseling students Cindy Livingston and Becky Brandon are completing part of their internship in Maras, Peru…They will be blogging during their time there…..
About the Moderator