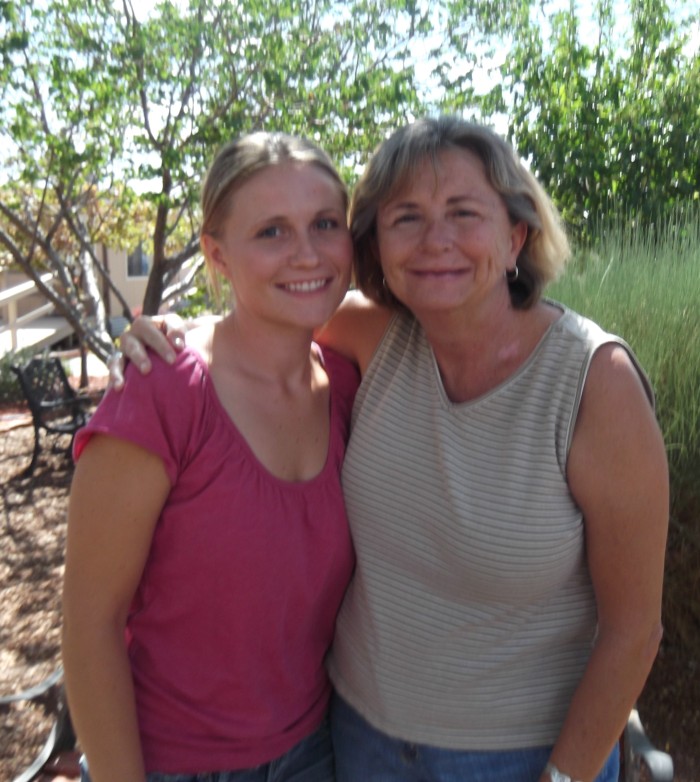 Southwestern College Students to Help Peruvian Children and Families
Homemade Ice Cream Social!
You're invited to an afternoon of homemade ice cream as we support
The Ayni Project and help raise funds for interns Cindy Livingston & Becky Brandon.
Your donation supports these interns in meeting their travel and living expenses
while serving children and their families in Maras, Peru.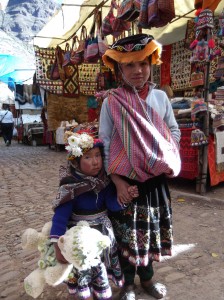 Please bring family and friends to cool off with us,
and be a part of a community that celebrates the spirit of ayni. SEE BELOW for an explanation of what "Ayni" is…)
When: Saturday, August 11 from 4pm-6pm
Where: Southwestern College, Art Therapy Bldg Classroom
3960 San Felipe Rd, Santa Fe, NM 87507
Suggested Donation: $20 (but any amount is appreciated)
If you are unable to attend this event but would still like to contribute to this effort,
please make checks payable to Cindy Livingston and mail your donations to:
Cindy Livingston
331 Cheryl Ct.
Los Alamos, NM 87544
THE AYNI PROJECT: SWC Interns in Peru
By Carol Parker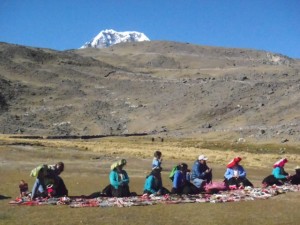 "Ayni" means "reciprocity" in Quechua, the language of the Andes.  Ayni is the very basis of Andean spirituality and everyday life in the villages of Peru….nothing happens without Ayni.  Ayni means giving back to Pachamama (Earth Mother) through ceremonies; it also means giving to each other.  In the rural villages, people say, "Today for me, tomorrow for you."  Today, you help me plow my field, tomorrow I help you with yours. 
Last fall, two SWC interns spent 6 months in Maras, Peru, engaging in Ayni by creating an after-school program for children ages 4 to 12.  Cordell Baker and Sara Williams paved the way for other interns to immerse themselves in village life.  Maras is one of the poorest villages in the Cusco region due to the lowering of the water table on this 13,000-foot plateau.  People can no longer grow crops year round, and have had to resort to other sources of income.  Boys and men leave the village to provide trekking services to tourists, while the women and girls stay home and tend the animals and what crops they are able to grow.  Other than the first few years of elementary school, the children have no services or programs.  Our interns provide arts, crafts, games, and mentoring. 
Our current intern, Craig McAdams, has been working with groups of 20 or more kids every day after school, as well as helping the art teacher with classes on Saturdays.  Craig has been mentoring 2 special needs kids who have had little help with learning problems.  Also, Craig has gone out of his way to find help for a child with a serious infection who was receiving no treatment.
Opportunities also exist for home visits with families; the abuelitas (grandmothers) as well as the moms with small children often welcome visits from our interns. 
This fall, Cindy Livingston and Becky Brandon will travel to Maras and spend several months there.  In addition to providing services to the children, Cindy and Becky will have opportunities to work with Altomisayoks and other Paqos (mountain shamans).  These two women will be engaging in Ayni on every level – spiritual, educational, and heart-felt service. This is true Ayni in the Andes -energetic exchange on every level of life. 
We are proud of the Ayni Project and our intention is to continue so long as the people of Maras want us there.
About the Moderator