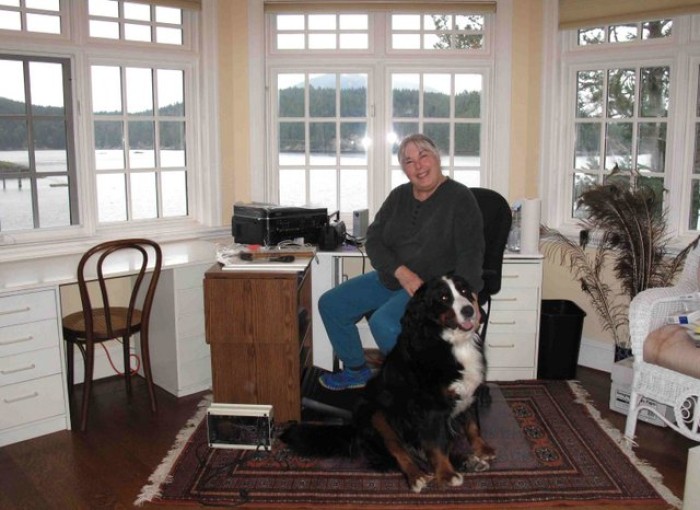 Hmmmm…. How does the supposed "expert" in the meaning of photographs make the choice of which one photo best represents her relationship with her dog??
Gee this is as difficult as making the choice of which photo of me I should use as the one-and-only Facebook profile pic!!!
Oh, well, since the dog cannot tell me his preference, here is mine!
but I needed two pics, not just one!! ;-)
So: The two photos  show our Bernese Mountain Dog named Oliver (called "Ollie") — first as a (35-pound, 8-week-old) puppy and the other as a nearly three-years-old 95-pound adult.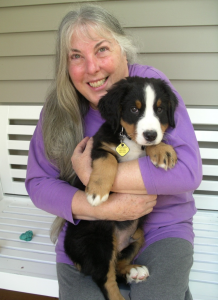 Who is a LOT of fun and loves to sit on (that's "on", not "at"!!) my feet while I work ;-)
and P.S. the second photo shows the office of the PhotoTherapy Centre in its new location (at our Island home near Vancouver) ;-)
Judy Weiser, R.Psych., A.T.R.
Founder/Director of the PhotoTherapy Centre
in Vancouver, Canada
Judy is an adjunct faculty member at Southwestern College in Santa Fe, New Mexico. She will be offering a certificate in "PhotoTherapy Techniques of Judy Weiser" (or something close to that title) and she will be our Keynote Speaker for the Transformation & Healing Conference at Southwestern College in August of 2013. She is out of Vancouver, British Columbia, where she has one hell of a view, as indicated in her photo…..
About the Moderator