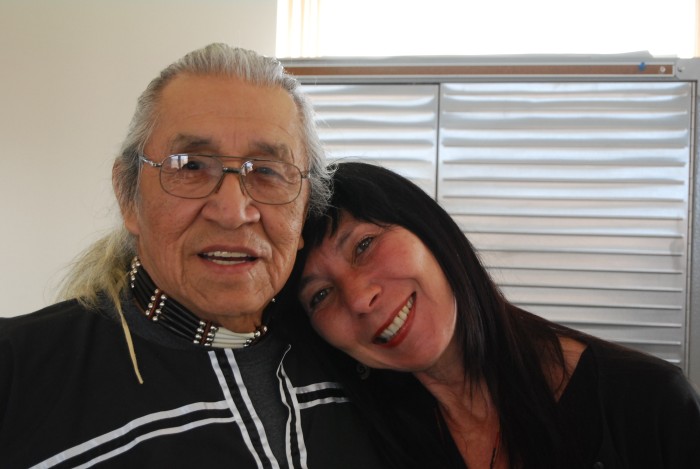 How do I describe him? He is a warrior and a healer. He is a leader and a friend of SWC. He is Lakota.  Harry comes from the Cheyenne River Reservation, and he has visited our campus a number of times to teach. He is an elder in his tribe and leads the "Healing of Mother Earth & Sun Dance" ceremony in July every year outside of Eagle Butte, SD.  He comes to SWC where he talks about his people, and tells the story of his tribe, and the meaning of the sacred pipe. As you may already know, this is a story that is filled with heartache, tears and triumph.  Harry Charger is a warrior – not because he was in the military when he was younger, he is a warrior because he has had to stand up, speak out and fight for his people to be heard and acknowledged during his entire life.
 When Harry has come to campus he carries the wisdom he is graced with from the healing traditions of the Lakota. He carries the pipe and prays with the pipe. He has offered the students and SWC community the sweat lodge ceremony for purification and healing. He has sat outside the sweat lodge and prayed with the sacred pipe for healing of hungry and hurt souls.
Harry also carries the wounds he has received personally and those of his tribe. He is of the generation that was sent off to the government schools to be taught "how not to be an Indian."  Harry is forthright about his distrust of "white people" based on his experiences.  He has not had an easy life, and when he speaks of his journey one can hear the voice of a healer as well as one who has been oppressed and disrespected by mainstream society. It is not an easy task to carry the pain and suffering he carries. He can be rough, blunt and unforgiving in his style of delivery in the classroom. And yet this man has a huge heart and he wants so much for others to hear the story of his people and to "get" that their struggles continue today.  The students and SWC community have become much more aware of the challenges of Harry's tribe and all the other tribes in America thanks to his efforts to illuminate us. 
When I was in sweat lodge with Harry Charger, what I learned was the incredible reverence he holds for Wakan Tanka (Great Spirit). I also see that amazingly wonderful heart staying open in ceremony to everyone no matter what their color or creed  I am grateful for Harry, and all the other Harry's who walk the planet today – inviting us to open our eyes and our hearts.
About the Moderator