Alumni Services
Southwestern College Honors its Alumni
Southwestern College held an event to honor the Alumni of the school. It was very moving. About 130 people RSVP'd, and ultimately, I have no idea how many showed up, as they were spread all over the campus and enjoying the gorgeous weather hither and yon. But I would guess more than 120, on a gorgeous, breezy New Mexico afternoon…  read full post
Laura Lansrud-Lopez reflects on the Alumni Event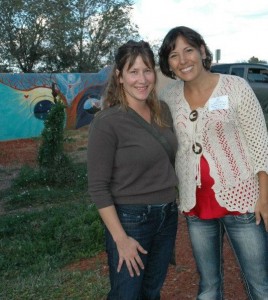 How many Southwestern College graduates does it take to create a strand of prayer flags illustrating our vision of facilitating positive change in the world? I don't know, but there sure were a lot of us working on it this past Sunday at Southwestern College's Alumni Event – a "Homecoming," I've come to call it. As an adjunct faculty member and Trustee of the College, I find myself on campus regularly for meetings and classes… read full post
---
Alumni Updates
Updates are now organized by year graduated. Send your new updates and photos at any time to alumniupdate@swc.edu. 
Alumni updates provide insight into where SWC graduates are working and what they have been up to. Thank you to everyone who has sent in an update!!
---
Use the new 'Keep in Touch' Form
You have the choice of receiving the following publications:
Transformation & Healing Conference Brochure
All
If you would like to make changes to the mailings you currently receive or to be taken off the mailing list, please email or call Desiree Beltran at Educasst@swc.edu or 505.467.6829.
---
We need your email address!
From time to time we send email announcements of events, professional opportunities, or Southwestern College news. If you are not receiving regular email from officemgr@swc.edu, please help us update our records by sending us your email address, especially if you graduated before 2003. Please send your name, email address, year of graduation and area of study to officemgr@swc.edu.
---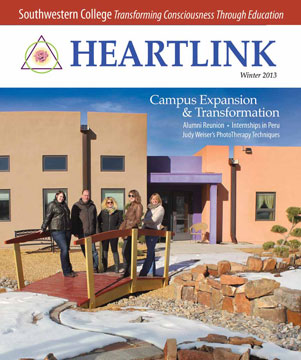 Heartlink Newsletter
The Heartlink newsletter is published twice a year. It highlights campus news, including alumni, faculty and staff updates. The current issue focuses on consciousness with current students and alumni sharing their light figure experiences. Past issues have traced the history of SWC. View or Download Heartlink Newsletters here.
---
Ordering a SWC Transcript
To obtain a copy of your Southwestern College transcript, complete a Transcript Request Form and mail it to:
Southwestern College
Registrar's Office
P.O. Box 4788
Santa Fe, NM 87502
OR Fax directly to the Registrar at (505) 467-6810
SWC charges $5 for each official transcript and there is currently no charge for unofficial transcripts. The Family Educational Rights and Privacy Act (FERPA) requires a signed/dated request from the student.
---
Ordering Syllabi
Fill out the Syllabi Request form and fax to 505-467-6806
or email the information contained in the request form to Office Manager at officemgr@swc.edu.
Alumni may request to receive either digital pdf versions or hard copy print versions of your syllabi.
It is a $20.00 flat fee for syllabi ordered. If syllabi are to be mailed to two different addresses it is $40.00.